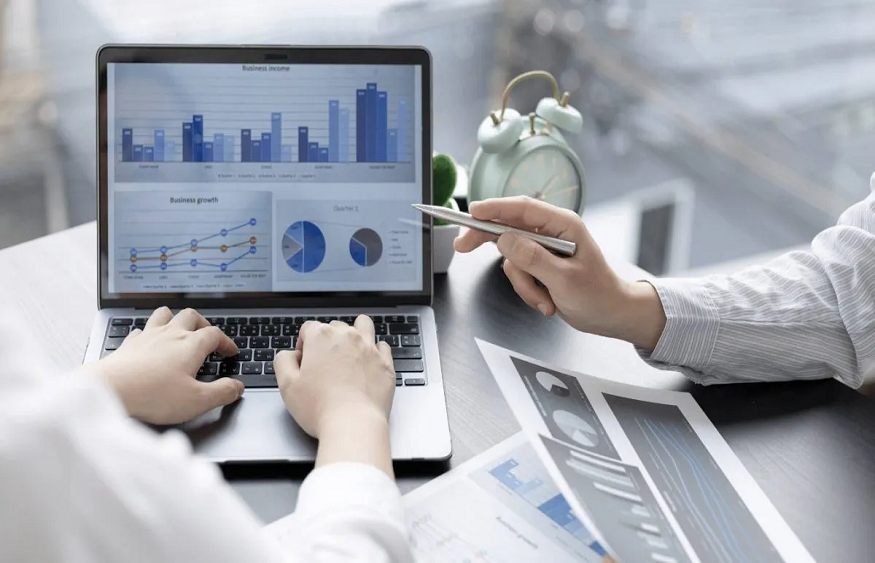 With the introduction of artificial intelligence (AI), the world of business intelligence (BI) is moving more quickly than ever. Companies are depending on data analytics more than ever to make wise decisions about their operations and future expansion. The way businesses gather, handle, and analyze data has been changed by AI powered Business intelligence tools. The use of AI has led to the development of more complex and advanced business intelligence (BI) solutions that provide new perspectives and opportunities for organizations to optimize their operations. We will go through some important things to think about while considering AI powered Business Intelligence solutions in this blog article.
What Is Business Intelligence (BI)?
Organizations' use of tools, approaches, and procedures to analyze business data is referred to as "business intelligence" (BI). The use of BI tools makes it easier to spot trends, patterns, and insights that can guide crucial business choices. In recent years, AI-powered BI solutions have become a game-changer. Data collection, analysis, and visualization are just a few of the BI processes that AI may assist automate and expedite. Large data sets can be quickly analyzed by AI-powered BI tools, which can also spot trends and offer insights that would be challenging or impossible for humans to discover on their own.
Advantages Of AI-powered BI Solutions
The ability to handle and analyze enormous amounts of data in a small fraction of the time it would take a human to do so is one of the main benefits of AI-powered BI systems. Data analysis with previous BI solutions were sometimes a labor- and time-intensive process that required a team of analysts to wade through mounds of data to unearth useful insights.
Machine learning algorithms are used in AI-powered BI solutions to find patterns and trends in the data that could otherwise go missed, automating much of this process. In today's fast-paced business world, this enables organizations to gain insights and make choices more quickly, offering them a competitive advantage.
The capacity of AI-powered BI tools to continuously learn and advance over time is another benefit. Businesses can now make more precise decisions based on real-time data as these systems get better at spotting patterns and generating predictions as they study more and more data.
Businesses can also find chances for growth or operational inefficiencies with the use of AI-powered business intelligence (BI) solutions. These solutions can offer a comprehensive perspective of the organization by evaluating data from all areas of the company, enabling firms to allocate resources and prioritize projects with more knowledge.
Challenges Of Implementing AI Into BI Solutions
The poor quality of the data is one of the main problems. For AI to be effective, enormous volumes of data are needed. The AI-powered BI solution won't be able to create credible predictions or offer insightful analysis if the data is unreliable or incomplete.
The fact that business users don't grasp AI presents another difficulty. Many firms can lack the technical know-how necessary to use AI efficiently or comprehend how it operates. Employee resistance and hesitation to adopt new BI solutions powered by AI may result from this.
Regarding BI systems that are powered by AI, security is another key issue. Businesses need to make sure that their AI-powered BI systems are secure and shield their data from cyber threats, just like they would with any technology that deals with sensitive information.
Last but not least, businesses, particularly small and medium-sized ones, may find it difficult to justify the cost of installing AI-powered BI systems. Businesses must make sure the advantages outweigh the implementation costs because integrating AI can be expensive.
Key Factors To Consider When Selecting An AI-powered BI Solution
The utilization of BI solutions powered by AI is becoming more and more crucial as the business sector develops. Choosing the best one, though, might be challenging given the abundance of possibilities. Businesses must take into account many crucial considerations when choosing an AI-powered BI solution to make an informed choice.
Priority should be given to making sure the solution is customized to the unique requirements of your company. To properly evaluate the data that is most pertinent to your organization, the solution must be able to do so. Additionally, it must be able to offer insights that may be leveraged to boost productivity and promote growth.
The degree of automation offered by the solution is a crucial additional consideration to take into account. Less manual involvement is needed the more automated the solution is. However, it's crucial to take into account the amount of control you want over the analyses and insights the solution offers.
Data security should also be taken into consideration. To ensure that your data is always protected, the solution should have strong security measures. This includes audit trails, access controls, and data encryption.
The amount of assistance offered by the solution vendor should also be taken into account. This covers initial training, assistance with implementation, ongoing assistance, and maintenance. Making ensuring that your AI-powered BI solution continues to satisfy your objectives as your organization develops can be achieved by selecting a vendor that provides thorough support.
Uses Of AI-powered Business Intelligence
In today's business environment, AI-powered business intelligence applications are increasingly becoming essential. By offering real-time insights and forecasts based on data analysis, the application of AI in business intelligence can aid organizations in making better decisions. It would take human analysts a lot longer to manually evaluate the massive volumes of data that this technology can accomplish so rapidly and accurately. Businesses may find patterns and trends in customer behavior, market trends, and even supply chain management with the aid of AI-powered business intelligence.
Companies can use this data to guide decisions about how to enhance operations, customer satisfaction, and profitability. AI driven visualization tools are revolutionizing how businesses run and compete in the market, from forecasting sales to streamlining inventory management. AI driven visualization tools will only expand as technology develops, making it an essential tool for contemporary firms.
Wrapping Off
We hope this post has given you a better grasp of business intelligence's future and the important variables to take into account when choosing AI-powered BI solutions. Businesses must adapt and adopt new tools as technology develops to stay ahead of the competition. Businesses may acquire insightful information, make wiser choices, and perform better overall by investing in AI-powered BI solutions. Stay on top of the latest developments in this area by keeping an eye out for them.