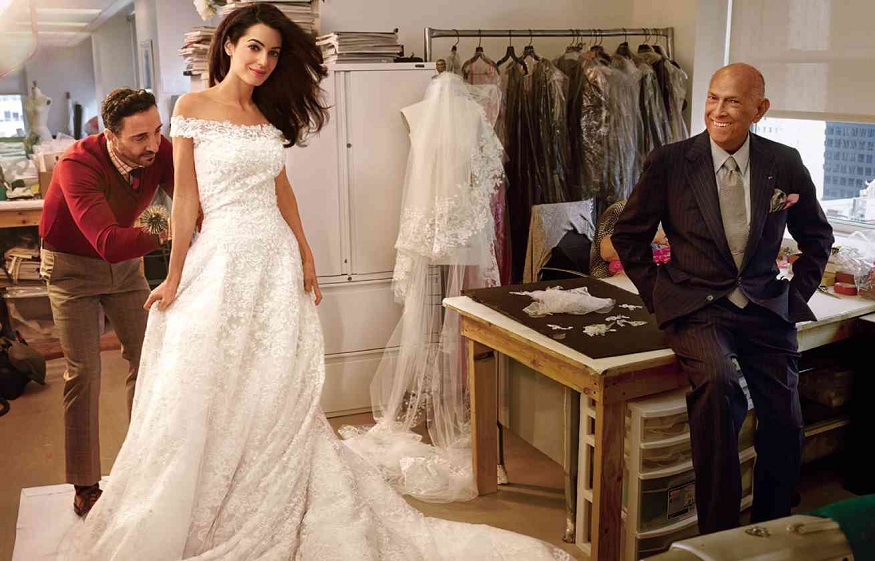 What according to you is the most important thing right after your wedding ring? Isn't it your wedding dress? Well yes, a wedding dress always had a sentimental and emotional place in the hearts of women. They tend to cherish that dress throughout their lives. As wedding fashion has become extremely important these days, there are several brides who are ready to splurge their savings and break their bank to buy that special wedding dress. Let's check out the most expensive wedding dresses that were ever worn.
1. Angelababy wedding dress – $31 Million
This wedding dress worn by a Chinese superstar was among the costliest dresses ever worn by any celebrity. It took 5 months to complete this dress and comprised of 7 petticoats, 10-foot long train and 100 lace roses.
2. Yumi Katsura's wedding dress – $8.5 Million
This bridal dress was designed by a famous Japanese fashion expert Yumi Katsura and was crafted with satin and fine silk. It features gemstones and zari embroidery that is intricately stitched within 1000 pearls and 5-carat white gold and diamonds.
3. Diamond wedding dress – $12 Million
Fashion designer Renee Strauss and jewelry designer Martin Katz both worked together on this gown. It was made with 150-carat diamonds and silk of the finest quality. This wedding gown almost looked surreal!
4. Peacock wedding dress – $1.5 Million
This is a strange yet unique dress made with more than 200 feathers of a peacock and it became a controversial thing among animal activists. The dress was however exquisite and spectacular.
5. Amal Clooney's dress – $4.6 Million
Both George and Amal Clooney did all they could do to make their wedding memorable. Amal Clooney's wedding gown was something to die for. It was the last gown designed by the fashion designer before he died.
6. Victoria Swarovski's Crystal gown – $1 Million
This wedding gown was nothing less than a dream as it looked perfect on the bride. 50,000 Swarovski crystals were used while making this gown and hence it was opulent. It had a plunging neckline with detailed work of art.
7. Danasha Luxury Gown – $1.5 Million
This was one of those special gowns showcased at Miami International Fashion Week. It looks classy, elite as it was made with the finest and classiest fabric. It was embellished with 250 grams of 18-karat gold.
8. Christina Mourad Wedding Dress – $1 Million
This is undoubtedly one of the best gowns that were ever designed by Elie Saab. It was made for his daughter-in-law, Christina. It has 500,000 sequins and has a 14-feet long train.
9. Kim Kardashian's Givenchy Wedding Gown – $500,000
Kim Kardashian looked dreamy in this Givenchy bridal gown as the floral fabric stood out and gave it a romantic look.
10. Kate Middleton's dress – $434,000
This was designed by Alexander McQueen and it was breathtakingly beautiful. This gown worn by the Duchess of Cambridge was classy, romantic and ethereal.
Read more: KUL Coupon Codes UAE & Promo Codes December 2019
So, these are the 10 most expensive wedding dresses that were ever worn by celebrities. Which lavish gown did you like? Let us know in the comments section. If you're a fashion freak, play MeVero referral game and earn money.