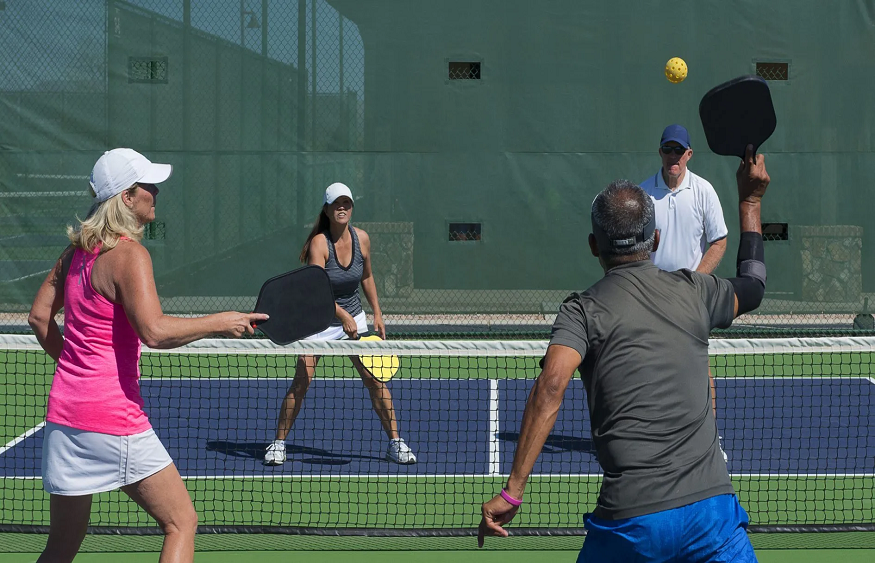 Imagine a sport that combines the elements of tennis, badminton, and ping pong, with a dash of its own unique charm. Enter pickleball, a racket sport that's been taking the world by storm. In this article, we'll delve into the captivating pickleball experience, exploring its origins, rules, the reasons for its popularity, and the personal journey of a pickleball enthusiast. Join me on this exciting journey through the world of pickleball.
The Origins of Pickleball
Pickleball's intriguing name and rich history date back to 1965. It was born out of a desire for family-friendly entertainment when Joel Pritchard, a congressman, and Bill Bell, an entrepreneur, returned to Pritchard's home on Bainbridge Island, Washington. They aimed to create a game that would engage their families, including their children, on a summer day.
With a few household items and creativity, they set up a makeshift court, equipped with table tennis paddles and a perforated plastic ball. As the game evolved, it captured the attention of Barney McCallum, a friend who helped develop the rules and fine-tune the equipment.
As the game gained popularity in their community, the Pritchard family dog, Pickles, often chased after stray balls, leading to the game's curious name. Thus, pickleball was officially born.
The Basics of Pickleball
Pickleball is a versatile sport, suitable for all ages and skill levels. It is typically played on a rectangular court that is 20 feet wide and 44 feet long. A net, measuring 36 inches in height at the sidelines and 34 inches in the center, divides the court into two equal halves. The game can be played as singles or doubles, but it is more commonly enjoyed in doubles.
Players use solid paddles made of materials like wood, composite, or graphite to hit a perforated plastic ball over the net. The objective is to score points by landing the ball within the opponent's court while adhering to the rules.
The scoring system is straightforward, with only the serving side eligible to earn points. The game typically goes up to 11 points, and a 2-point margin is required for victory. However, players often play to a higher point total depending on their preference.
Why Pickleball's Popularity is Skyrocketing
Pickleball's appeal goes beyond its unique name and easy-to-grasp rules. There are several key reasons for its surging popularity:
Accessibility:Pickleball's simplicity and affordability make it accessible to almost everyone. Equipment costs are relatively low, and the sport can be played on a small court, which is a boon for communities, schools, and recreational facilities. Whether you're a retiree looking for a social activity or a young athlete seeking a new sport, pickleball has something to offer.
Health Benefits: The sport offers a fantastic way to stay active and healthy. With its quick movements, it provides an excellent cardiovascular workout. It also enhances balance, coordination, and flexibility, making it suitable for people of all ages. Additionally, the social interaction on the court is good for mental well-being.
Social Aspects:Pickleball is as much about camaraderie as it is about competition. The game fosters a sense of community and encourages social interaction. Many players find themselves forging new friendships on the court, and pickleball tournaments often include a vibrant social scene alongside the competition.
Competitive Opportunities: While pickleball is known for its fun and casual play, it has a competitive edge as well. Tournaments and leagues have sprung up worldwide, offering a platform for those looking to test their skills against others. The USA Pickleball Association (USAPA) governs the sport, ensuring a fair and competitive environment.
Read more: Weighing the Decision: The Good, the Bad, and the Basketball Return Systems
The Personal Pickleball Journey
To truly understand the pickleball experience, let's follow the journey of Jane, an avid pickleball player. Jane, a retiree, discovered pickleball through a community event. Initially, she was hesitant, not knowing what to expect. However, as she stepped onto the court for the first time, she felt an immediate connection to the sport.
Jane recalls, "Pickleball was like a breath of fresh air. The friendly faces, the laughter, and the exercise all combined to create an incredibly inviting atmosphere. It didn't matter if you were a rookie or an experienced player; everyone was supportive and encouraging."
As Jane continued to play, her love for pickleball grew. She attended local tournaments and found herself engrossed in the competitive aspect of the sport. "Pickleball has given me a sense of purpose and a reason to stay active. I've made so many friends and memories through this sport that I'll cherish for the rest of my life," Jane says with a smile.
Conclusion
Pickleball is more than just a sport; it's a phenomenon that has captured the hearts of people worldwide. Its humble beginnings have transformed into a global sensation, embraced by individuals of all ages. Whether you seek exercise, camaraderie, or competition, pickleball offers it all.
The future of pickleball is undoubtedly bright. Its continued growth in schools, recreational facilities, and communities ensures that the sport will flourish for generations to come. As the sport evolves, new equipment and playing techniques will emerge, and professional pickleball tournaments will provide opportunities for elite athletes.
Pickleball is a sport that fosters friendships, encourages fitness, and brings joy to those who pick up a paddle. Join the pickleball revolution, and you might discover a passion that enriches your life just as it has for countless others. So, grab a paddle, step onto the court, and embark on your own pickleball adventure.