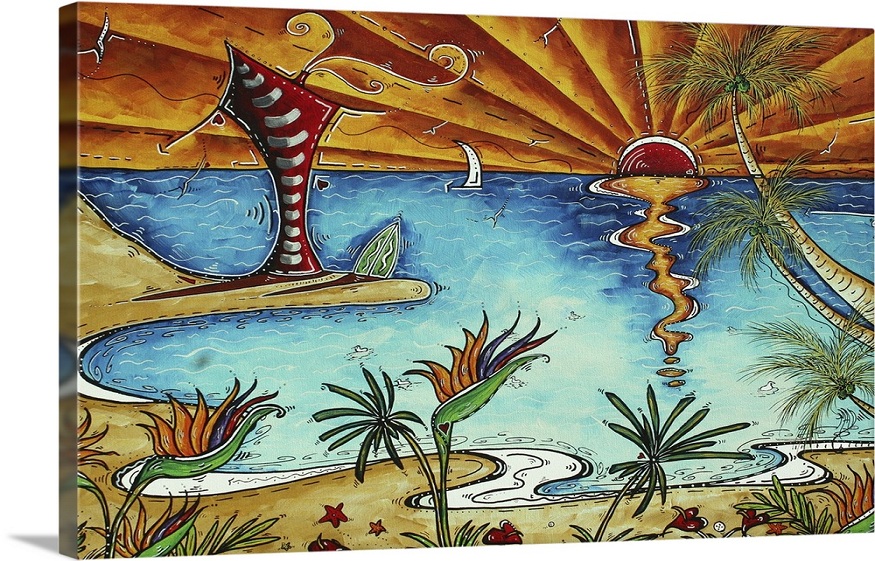 Serenity is what every person wishes to bring to their home. They do everything possible to make the home environment peaceful, including Pooja and Havans. However, there's something that can be done with ease – decorating interior walls' with positive paintings. Yes, paintings that pass good energy can make an unexpected difference to your home environment.
There are some painting styles that are widely picked by people to bring Serenity to home. In addition to this, you can gift these paintings so your loved ones can also experience Serenity at their home.
Landscape Nature Paintings
First of all, the landscape painting will leave no chance to make you feel relaxed at home. Yes, the beauty of the nature paintings is commendable. The ever flowing capacity of river motivates you to keep going forward in every life situation. The hardness of mountains tells you to be strong always. The sun sets you to be positive. These are all signs of Serenity that are brought to you by beautiful landscape nature paintings.
This painting looks enticing in your hall, bedroom, kid's room, and even kitchen. Apart from spreading Serenity in the interior, it shows that you are a nature lover and admirer! This kind of artwork is one of the most gifted article from the range of home décor items.
Floral Paintings
Floral Paintings are the second most picked painting that ensures Serenity in your lovely residence. The artists create a thousands of Floral paintings that shows different qualities and messages. When it comes to qualities and messages, we means to say positive and serene aspects like love, peace, good luck, etc.
You can bring Serenity and wish for success and good luck with orange flowers. Show your affectionate side with pink or red Floral painting. Similarly there are many Floral Paintings that you can choose to make your interior peaceful.
Buddha Paintings
The artwork of Lord Buddha is self explanatory for Serenity and peace. Usually the Buddha Paintings show lord Buddha sitting in the mediation pose. This inspires you to be a peaceful entity that is smart and wise enough to handle the toughest life scenarios. Whenever it comes to home décor while maintaining peace in the home, people get their hands on Buddha Painting. So, you must also get his painting for either your bedroom, hall, or passage way in the home.
If you choose it to place in the room of your children then it's even the best thing to do because you can recite the stories of goodness of Lord Buddha to them. This will help them to inculcate his qualities and implement wise actions in their life. If you see all these things all together, you will feel Serenity inside the home.
Pattachitra Paintings
If you don't know much about Pattachitra paintings the we'll tell you a bit today. These beautiful and enticing paintings are made by expert Pattachitra artists from Odisha, India. The artists pour all these creativity on the piece of a cloth, which is usually called patta and the chitrakari or designing of Lord Ganesh, Krishna, and Buddha is done on top of it. All three deities are a symbol of Serenity and peace. Therefore, if you bring a Pattachitra painting home then you will experience vibrations of bliss, spirituality, and calmness at your sweet home itself.
7 Running Horses Paintings
Last but not the least, the 7 running horses painting is an awesome artwork that passes out serene vibes in your home. It motivates each of your family members to have a peaceful personality so they can act smart even in the most difficult situations. It's best to decorate your living room, kid's room, personal bedroom, or entryway of you home. It's is widely available both in physical stores and ecommerce websites.
Conclusion
It is not necessary to visit temple daily or worship God everyday to experience Serenity. You can feel it at your home with just a small change in the décor. With these paintings, you can feel the vibrations of Serenity in your interior.
So, let us know in the comment section below- which one would you like to get for your home.